You are here : ILVENResearch TeamsEPICollaborations
Collaborations at EPI
The EPI team collaborates nationally and internationally. These collaborations with research groups can take different forms. The team participates in academic collaborations and also has strong partnerships established over several years. The researchers are also strongly involved in training.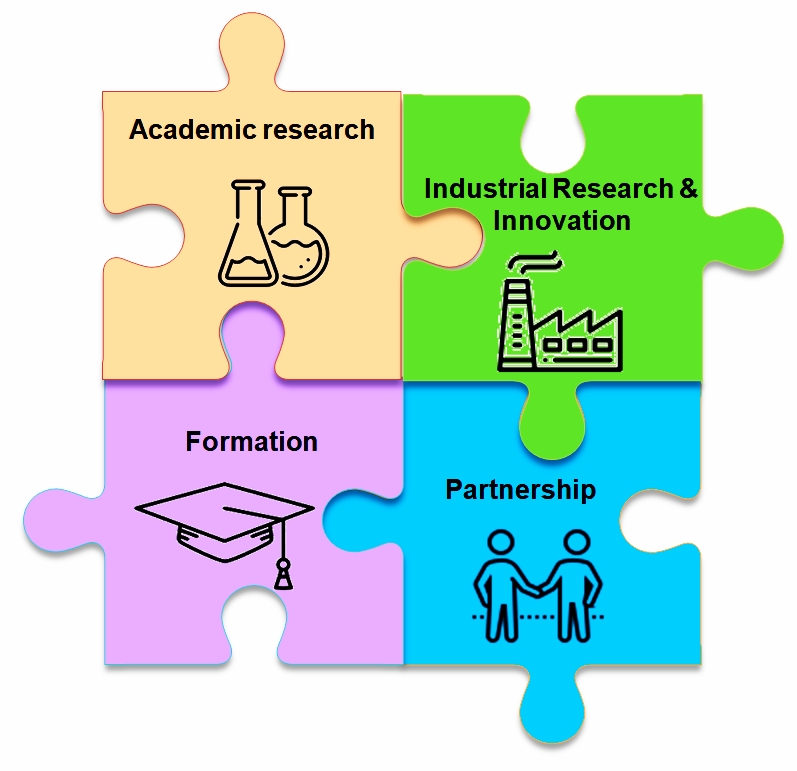 Academic
Condensed Matter : GEMAC (UMR 8635 CNRS-UVSQ), PMC (UMR 7336 CNRS-Ecole Polytechnique)
Patrimony : LIMBE/LAPA (UMR 3685 CNRS-CEA) C2RMF ( UMR 173 CNRS-Laboratoire de recherche des Musées de France), CRCC (USR 3224 CNRS-Ministère de la Culture)
Micro/Optoelectronic & Nanotechnology : C2N (UMR 9001 CNRS-Université Paris Sud) CEA-LETI.
Chimistry et Electrochimistry: LISE (UMR 8235 CNRS-UPMC)
Diamond: GEMAC (UMR 8635 CNRS-UVSQ) CEA-LIST
PV & Energy Storage: UMR 9003 IPVF, ICube (UMR 7357 CNRS-Université de Strasbourg), RCAST Tokyo, LIST Luxembourg, UCC Cork
Industrial Research and Innovation
Sofradir, NXP Semiconductors
Aveni, Thalès, III-V Lab, UMS
Total, Air liquide, EDF, Safran
Saint Gobain, Leoni, Egide, Valeo
Surys
Formation
University Education in Paris Saclay
Professional CNRS formation (cnrsformation.fr)
XPS for micro/opto-electronic, chemistry of surfaces andinterfaces
Training conferences: JNPV, Elspec
Partnership
IPVF: I project Leader "Advanced Characterizations"
KMG: Common lab (→ 2018)
SOFRADIR: Industrial PhD
EDF: Industrial PhD
Aveni: Industrial PhD
ANR, FUI, LIA, LABEX, DIM...