Last publications
Chaotropic Effect as an Assembly Motif to Construct Supramolecular Cyclodextrin–Polyoxometalate-Based Frameworks
S. Khlifi, J. Marrot, M. Haouas, W. E. Shepard, C. Falaise, E. Cadot,
J. Am. Chem. Soc.
2022 144 (10), 4469-4477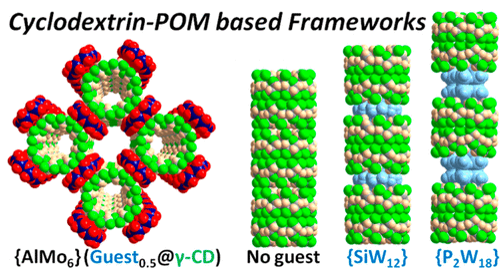 "Host in Host" Supramolecular Core–Shell Type Systems Based on Giant Ring‐Shaped Polyoxometalates
C. Falaise, S. Khlifi, P. Bauduin, P. Schmid, W. Shepard, A.A. Ivanov, M.N. Sokolov, M.A. Shestopalov, P.A. Abramov, S. Cordier, J. Marrot, M. Haouas, E. Cadot.,
Angew. Chem. Int. Ed.
. 2021, 60, 14146
"
Co-immobilization of a Rh Catalyst and a Keggin Polyoxometalate in the UiO-67 Zr-Based Metal–Organic Framework: In Depth Structural Characterization and Photocatalytic Properties for CO2 Reduction
"
Y. Benseghir, A. Lemarchand, M. Duguet, P. Mialane, M. Gomez-Mingot, C. Roch-Marchal, T. Pino, M.-H. Ha-Thi, M. Haouas, M. Fontecave, A. Dolbecq, C. Sassoye, C. Mellot-Draznieks
J. Am. Chem. Soc.
142, 20, 9428–9438
"Formation of a Single‐Crystal Aluminum‐Based MOF Nanowire with Graphene Oxide Nanoscrolls as Structure‐Directing Agents"
M. Muschi, A. Lalitha, S. Sene, D. Aureau, M. Fregnaux, I. Esteve, L. Rivier, N. Ramsahye, S. Devautour‐Vinot, C. Sicard, N. Menguy, C. Serre, G. Maurin, N. Steunou
Angew. Chem. Int. Ed.
2020, 59, 10353